Welcome to week 41 of Sweet and Savoury Sunday!
I hope you've all had a fabulous week, Well we're currently battling horrific winds here in Donegal so I've definitely been making the most of lighting a gorgeous fire and snuggling on the sofa with my wee girl while the storm batters on outside.
We finally caved and put up our decorations aswell. We were waiting on news for our new home (we're hoping to be in before christmas, cutting it fine I know) but as we hadn't heard anything about the keys we thought might aswell whip up the tree.
Yet no sooner had we put up the tree, the following day we had a phonecall to go collect our house keys tomorrow!!!!
Very exciting although now we just need to figure out a plan as to how to move the tree from one house to the other, preferably without having to take the decorations off. It's going to be interesting.
Anyway lets get this party started, I can't wait to see what you've all got.
And if you're not featured here today remember to pop over to
Lorraine
because you don't know, she could have picked you!!
Most Clicked:
If you've been featured please feel free to grab one of our buttons for your blog.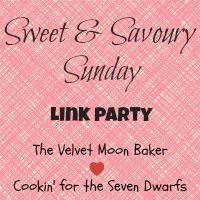 The Rules:
. Link up your DIY, Crafts, Recipe, Family related posts - Link up no more than 3
. Visit atleast 3 other links and leave some lovely comments to let them know you stopped by
. Please note by linking up you are giving your hosts permission to use your images if you have been featured, with link backs to your blog.
. Grab a party button and pop it on your blog.
Now on with the party!